How to boost your traffic, subscribers, credibility, and yes, SEO, with interviews – Part 3
By Susan Johnston Taylor, Freelance Writer
Ready to Publish
Now that you've planned and completed an interview, what happens next? Hopefully, you took detailed notes, recorded audio, or both. If I'm getting an interview recording transcribed, I'll still type up notes in case something goes wrong. Once I get the transcript back, I'm ready to write!
Here's my process.
Incorporating Interviews Into Your Writing
I have two ways of using interview content in my writing. First, are the Q&A-style pieces I write for places like The Beat (as an example, here's my Q&A with best-selling author Seth Godin). These include long sections in the person's own words, which is why I get those interviews transcribed for accuracy.
A Q&A is a list of questions and responses. They let you feature someone in their own voice without asking them to write an article. Q&As are highly skimmable, and they often include practical tips that you might not have otherwise thought to include.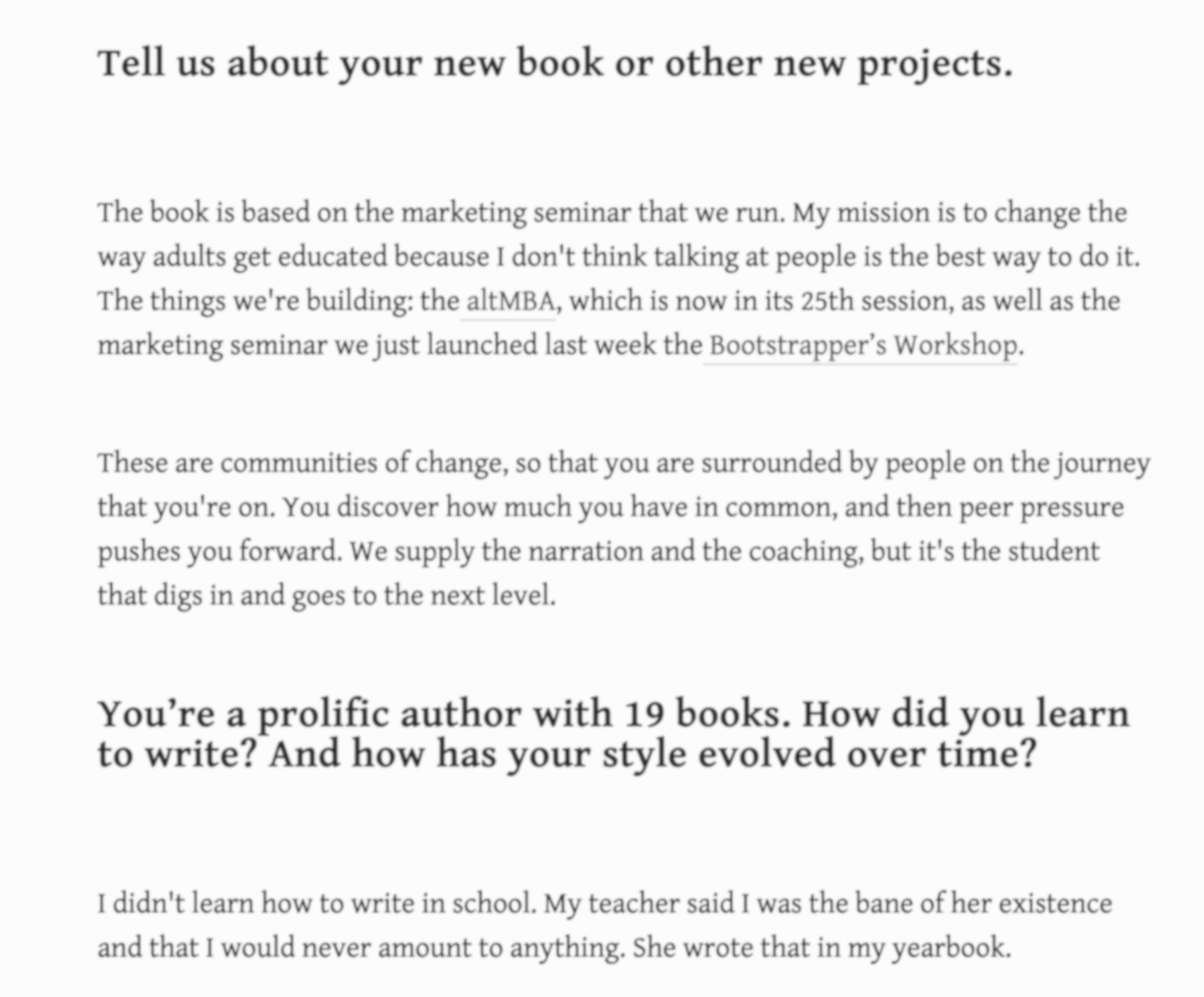 The Q&A format lets you feature someone in their own voice
However, a direct and literal transcription of everything the person said doesn't always make for a compelling read, so I perform some clean-up and include a disclaimer that "the following conversation has been edited for clarity and brevity."
My goal is to maintain the essence of the person's responses but distilled into a shorter, more accessible version, removing repetition, irrelevant tangents, and vocal tics like "umm" and "uhh." Adverbs are also great candidates for the chopping block. As Grammar Girl founder Mignon Fogarty pointed out in her interview, "We use a lot of adverbs when we talk. But when you see them on the page they look excessive, like filler."
Some authors and other experts who regularly give interviews with major media outlets go through media training where they practice answering questions and sticking to their key messages. If an interview subject is media-trained, they usually speak in short, succinct sound bites, so I don't need to do much – except for correcting occasional errors in the transcript. However, media-trained subjects sometimes say the same thing several different ways to make sure they're understood and to get their talking points across. In that case, I might choose the most interesting or clearest phrasing they used.

Media-trained people can also be expert at dodging tough questions in the nicest, subtlest way possible, however. Because we're not doing hard-hitting, investigative journalism for our interview series on the Beat, that hasn't been a problem. But in some cases, it can be.
If subjects aren't media-trained, I typically have more work to do. The first few sentences of a response to a question might be verbal throat clearing and pontificating before they get to the meat of their answer. "Well, the thing is, Susan, that's a great question and actually, I like to think of it this way …" Nobody wants to read that, so I skip to the good stuff. It reminds me of a writing class I took from children's book author Liz Garton Scanlon and she told us to think of revising, not as cutting words, but as making your writing more potent.
Those are micro-cuts, but sometimes I do macro-cuts, too. If a Q&A runs long, I might delete entire sections that aren't relevant to my readers or didn't elicit interesting responses. I edit these in a separate document from where I typed up notes. That way, if I need to, I can refer back to my original unedited notes or transcript.
The other type of writing I do with interviews are profiles, feature articles, blog posts, and other formats where quotes are woven into the narrative with lots of descriptive or explanatory text in between. In this case, I try to choose the most colorful and compelling bits to quote directly. Paraphrase any purely factual information that's devoid of color or personality in your own words. Boring quotes stating the obvious don't reflect well on the speaker or the writer.
The feature format allows you to share context and tell the interviewee's story
Great quotes, on the other hand, help content jump off the page. While I'm doing an interview for a feature article, I might type an asterisk next to a section I found especially quotable. I try to keep quotes short and avoid quoting more than three or four sentences at a time. Long quotes can slow down the piece and make it harder for readers to skim, so I choose the juiciest bits.
Other Uses For Interview Material

Once an interview is published, I (or in some cases, my editor) email the link to the interview subject and thank them for their time and insights. We'll also share the link on social media, and tag them.
You can also use choice bits of the interview to create short-form content. Podcaster and financial writer Farnoosh Torabi sometimes teases excerpts from podcast interviews on her Twitter feed. When I co-chaired a regional conference for the American Society of Journalists and Authors, I interviewed conference moderators to get their best tips for attendees and turned their quotes into Twitter graphics using the free, web-based tool Canva.com.
Here at Find a Way Media, we create branded social media graphics with quotes to promote our interview series. Interviewing experts not only gives us the opportunity to repackage content for shorter formats but it gives those experts an easy way to reshare that content with their followers.
Hopefully by now, I've convinced you that interviews are worth the extra time and effort and I've shown you how quotes can enhance your short and long-form content. The more you write content that includes interviews, the more you'll find ways to weave in quotes naturally or repurpose them in other ways, and to create a whole lot of value — both for you and your subjects.


This is part three of our three-part series on interviews for business writers. In case you missed it, check out part one, where we explained how interviews can improve your content's credibility and shareability, and part two, where we outlined tips for requesting, preparing for, and completing interviews.